It is no surprise now since monsoon season is in full swing, that all out door plans must be checked twice. But here's our solution, a perfect vehicle for taking on the monsoon season, the Jeep Compass Trail Hawk. There's no doubt that the Jeep Compass has been the star for FCA in India. But now, with new variant and special edition updates, Jeep India has been pumping renewed life into the Compass.
It has been a long wait and the wraps have been finally taken off the India-spec Compass Trail hawk. The Trail hawk's moniker style deems to be more hardcore and off-road-focused version of Compass.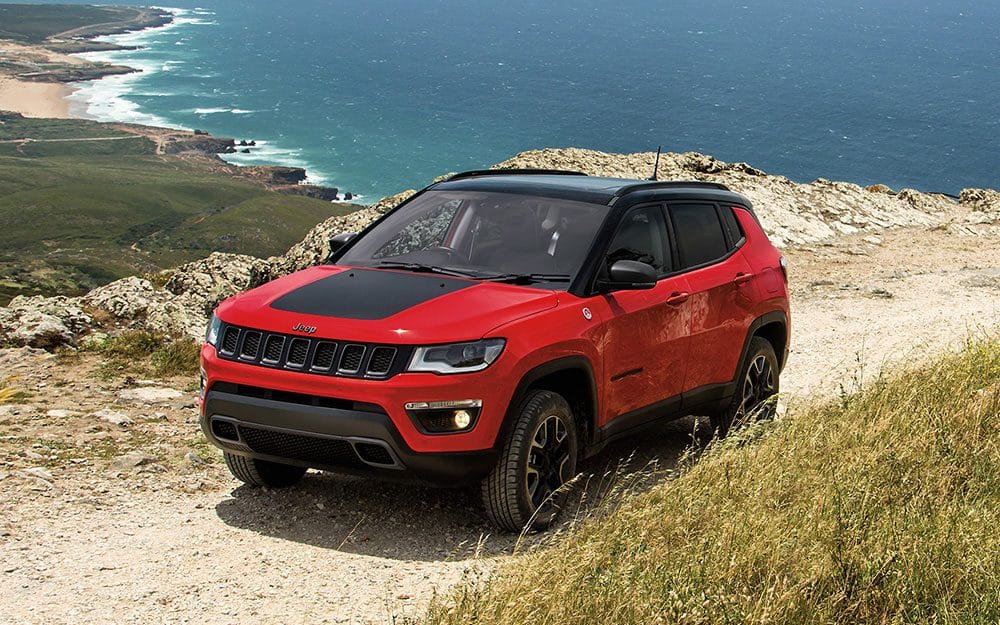 Check out more features at your nearest Jeep Showroom in Bangalore while we tell you why we think you'll love to drive the Trail hawk all around the monsoon –
While its exteriors and plush comforts speak for themselves, Its World-class capability is what sets the standards for every other SUV
Built to dominate every challenging terrain, its Trail Rated® badge is an affirmation of the same capability and a sign of its worldwide off-roading authority.
Every Trail hawk comes equipped with the Trail Rated badge, meaning it can perform well in both off-road and all-weather conditions. During monsoon season, the Vehicle's ability to ford water while maintaining traction, even in some of the most unpredictable driving conditions, allows you to feel confident in all driving conditions.
A Trail Rated badge is not given. It's earned.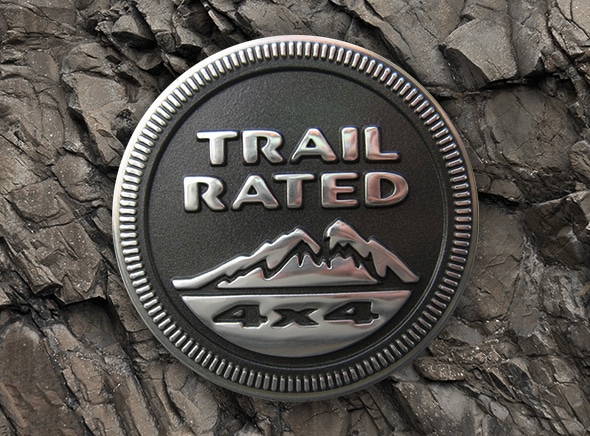 Every Trail Rated 4×4 Jeep vehicle has succeeded against a series of gruelling tests to prove its off-road capabilities on some of the toughest trails on the planet. The tests that push the boundaries of capability fall in five performance categories: Traction, Water Fording, Manoeuvrability, Articulation, and Ground Clearance. The rating in each performance category defines the ultimate breadth of capability of the Jeep vehicle. The Jeep Compass Trail hawk has earned the Trail Rated badge – a sure sign that you can take your Jeep vehicle to the end of the earth and back. In other words, unparalleled 4×4 capability comes standard with the world-class Jeep Compass Trail hawk.
The Trail hawk is capable of manoeuvring through trudging waters, and with sealed electrical systems, a high air intake and available skid plates for additional undercarriage protection, all your worries about your car's well-being will be washed away.
The Compass Trail Hawk Runs on fuel and thrives on adventure.
The class-leading 9-speed automatic gearbox in the Jeep Compass Trail hawk ensures effortless gear shifts and seamless power delivery. The gearbox houses a host of shorter, mid-range gears that ensure short transitions between gears for smooth and virtually unnoticeable conversions. These shorter steps between gears – thanks to being more – translate to extremely manageable, shudder-free gear shifts and enhances the vibration characteristics. In short, the 9-speed automatic gearbox will keep you in the optimum gear as you confidently drive through the world's vast unknowns.
2.0L Multi jet II Turbo Diesel Engine puts you in charge of an impressive 170 HP and 350 Nm of torque. These friction-reduced engines are specifically engineered to enhance performance, fuel efficiency, and lower emissions.
Jeep Active Drive system, exclusively available in the Trail hawk, under normal conditions, sends all available power to all the wheels while monitoring the speed of the front and rear axles. If the system
detects that the front axle is moving faster than the rear axle, the Power Transfer Unit recalculates the power to be distributed to the rear axle and ensures they're both moving at the same speed.
This allows for enhanced climbing ability and ease of navigation in severe o-road conditions.
Working in conjunction with the Select-Terran system, Jeep Active Drive Low aggressively modifies torque distribution while monitoring the engine, transmission, and Electronic Stability Control system.
The Select-Terrain Dial allows you to select the desired terrain setting from Auto, Snow, Sand, Mud, and Rock modes including Speed Control, exclusively on Trial hawk models, along with Hill Descent Control.
The Jeep Trail hawk is built to be strong; it's also designed to be smarter with the help of modern technology.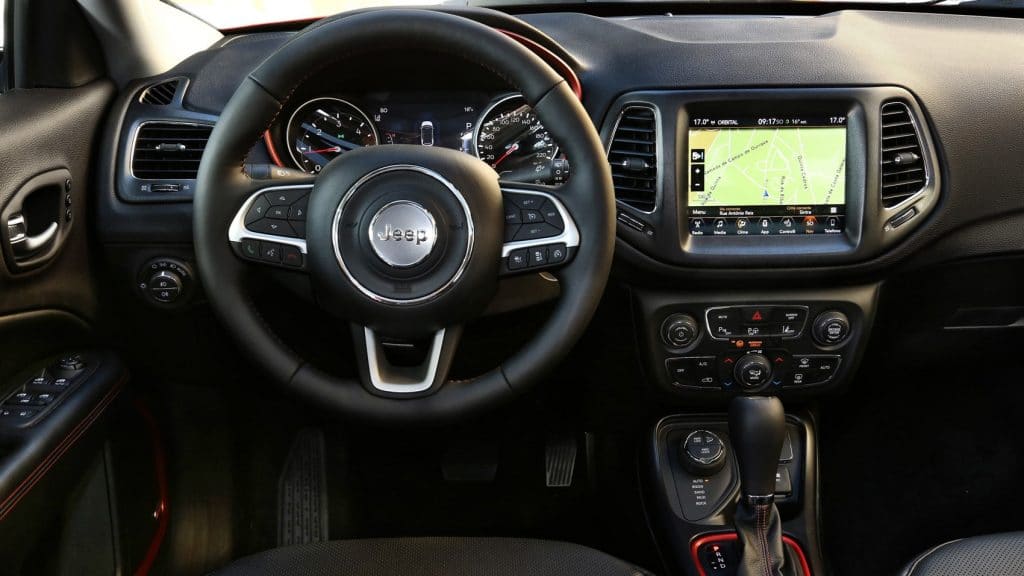 Uconnect brings a wide range of communication and entertainment services bundled within a robust system. Now, enjoy the freedom of having the things you need at an arm's length.
Voice and Touch Interaction Uconnect technology takes a leap forward with a smarter interface allowing you to set cabin temperature, control air flow, and operate the infotainment system by simply using voice commands or at the touch of a fingertip. While driving, you can also listen to directions via the in-built navigation app, or your music via USB Port, Audio Jack, and Bluetooth Streaming Audio. So now you can get things done in an instant using both, voice and touch.
Smartphone Integration Apple CarPlay and Android Auto are available to cast your phone's familiar interface onto your Uconnect touchscreen, for a safer and smarter experience. Seamlessly integrate your phone to use its features, including voice recognition, making calls, accessing music, sending and receiving messages, and getting directions optimized to track conditions. You can also pair up to eight Bluetooth-enabled phones. The Do Not Disturb feature allows you to see a visual prompt of incoming calls or texts and send an automated reply.
The Jeep Compass Trail hawk comes with over 50 safety and security features to protect you round the clock.
These active and passive safety systems give you an exceptional toolkit of confidence to go on any adventure you want and come back safely.
The Jeep Compass Trail hawk can help you park and reverse with ease. This system uses rear ultrasonic sensors to determine relative distance to objects in your back-up pathway and notifies you of rear object proximity in the Driver Information Display.
Parkview Rear Back-up Camera with Dynamic Grid Lines Reverse in and out of your parking spot safely and with grace. This system helps bring previously hidden rear objects to your attention, either on-screen or with an audible warning, giving you enough time to react.
A Push-button Electronic Parking Brake eliminates traditional pull park brake systems. This premium feature functions in the following modes: Static Apply and Release, Automatic Drive Away Release, Safe Hold, and Auto Apply. You can customize the Auto Apply feature which adds an additional measure of safety, setting the Trail hawk to automatically apply EPB on parking or in the "key o" position. When you turn on the vehicle and drive, the EPB releases automatically.
Hill Start Assist helps prevent the Trail hawk from rolling backwards when starting on an uphill gradient. It holds the vehicle stationary for approximately one second after your foot is removed from the brake pedal, giving you time to apply the throttle.
Electronic Stability Control (ESC) offers vehicle-wide network of safety sensors provide instant aid should they detect the vehicle veering o your intended path. ESC coordinates Electronic Roll
Mitigation, Hill Start Assist, Antilock Brake System, and all-speed grip control, sending them into action when needed, keeping you safely in the drive line.
As an extension of Electronic Stability Control, Electronic Roll Mitigation uses sensors to anticipate potential risk situations. If things get rough, ERM takes immediate action to help you maintain control and stability.
Antilock Brake System allows continuous evaluation of the road conditions for optimal engagement and stopping distances. This robust system includes Rain Brake Support, Hill Start Assist, and All-speed Grip Control, all working together to help maintain vehicle control during emergency braking.
Underbody Protection comes with a special o-road package on the Trail hawk including skid plates for the cooling module, engine and transmission oil pans, front suspension, and fuel tanks. Every element is constructed using high-grade, heavy-duty steel and painted with a high-quality black e-coat for protection while driving o the beaten path.
Keyless Enter 'n Go automatically unlocks the door upon grabbing the handle, provided the key fob is near your vehicle. Press a small button on either front door to lock all doors.
Full-length side-curtain, front and rear-passengers, seat-mounted side for front occupants, driver single-stage, and front passenger dual-stage air bags, all help surround you with safety and confidence.
Finally, if you ever find yourself in a situation, you're not comfortable getting out of, the available SOS Call and Assist buttons are there to connect you with Uconnect Roadside Assistance or a Public Safety Answering Point that will dispatch first responders to your location.
Launched in India in July 2019, the Compass Trailhawk on road price in Bangalore starts from Rs.34.03 lakhs*. For more details visit your nearest Jeep dealers in Bangalore.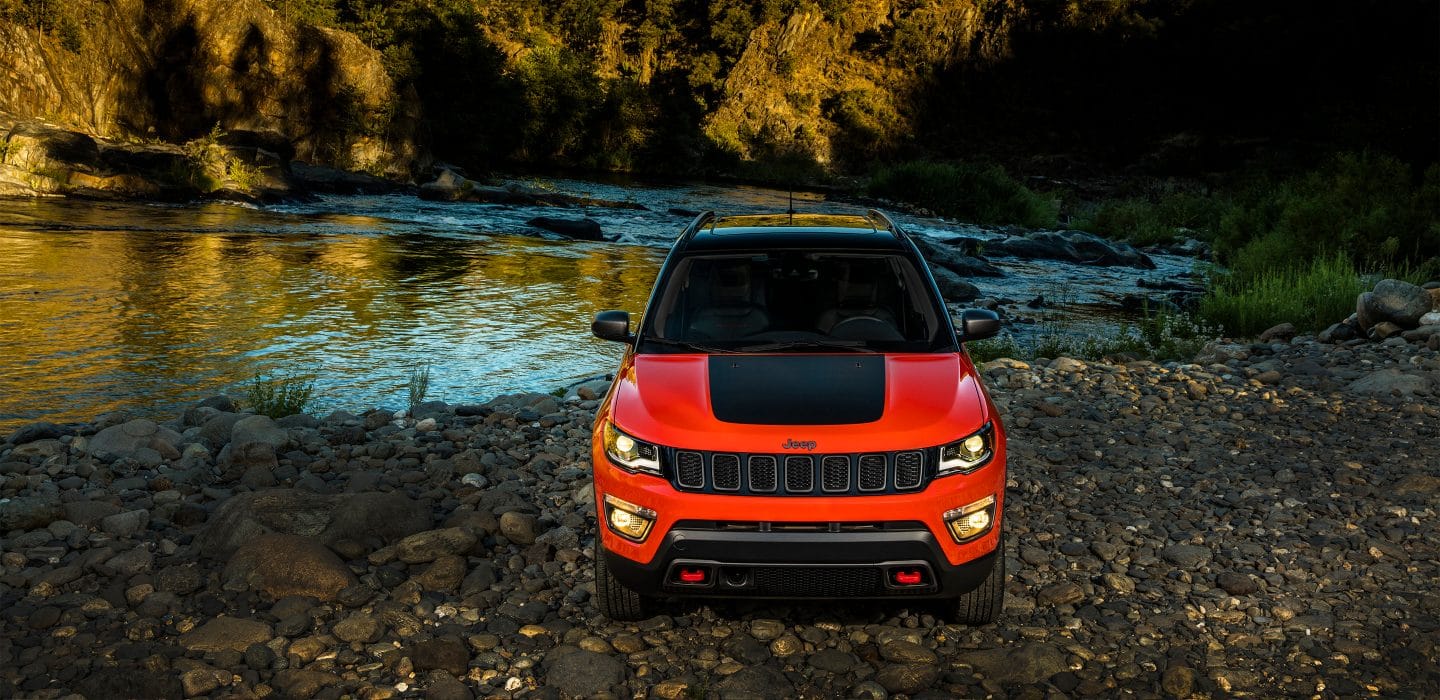 Contact PPS JEEP to try the Compass Trail Hawk test drive in Bangalore at your nearest jeep showroom in Bangalore Today